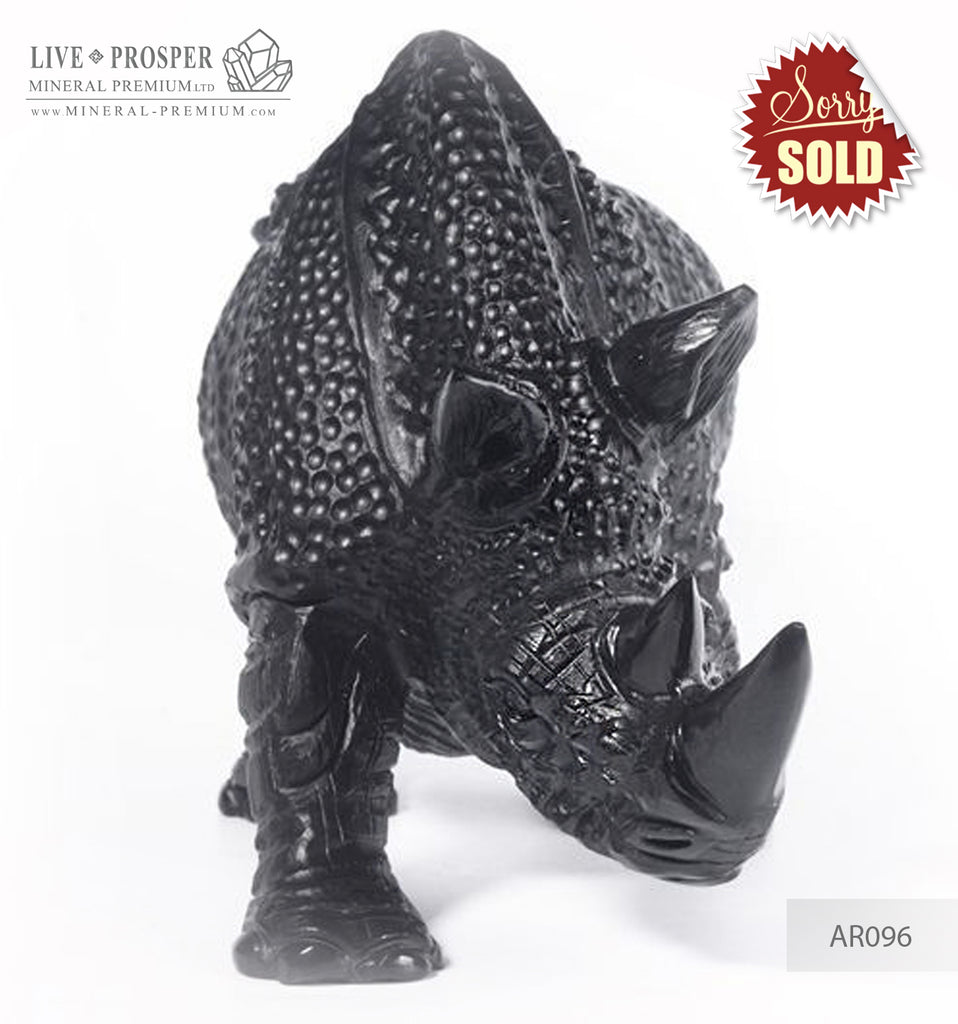 Solid obsidian carving of Rhino on guard AR096
$4,500.00
*SOLD OUT at 06.02.2019 you can send a request for the similar product  *ПРОДАНО 06.02.2019 доступно аналогичное изделие
ID. PRODUCT: AR096

NAME OF PRODUCT | НАЗВАНИЕ ИЗДЕЛИЯ

Solid obsidian carving of Rhino on guard  
Носорог из чёрного обсидиана -"Страж"

MATERIALS | МАТЕРИАЛЫ

obsidian 
обсидиан

DIMENSION | ГАБАРИТЫ

h=11,3cm 20,0х8,2сm total weight = 1,491g
*one wooden box
h=11,3см 20,0х8,2см общий вес = 1,491г  
* в комплекте с деревянной коробкой
MINERAL DEPOSIT | МЕСТОРОЖДЕНИЕ
Mexico , Puebla
Мексика, Штат Пуэбла

VIDEO | ВИДЕО 
SYMBOLIC VALUE | СИМВОЛИЧЕСКОЕ ЗНАЧЕНИЕ

Rhino is a symbol of security and confidence, a talisman that provides a spiritual connection with the Gaia mother of earth. In Feng Shui, the Rhino is a symbol of strength that protects against theft, loss, robbery, and accidents. In China, Rhino is associated with a symbol of luck and happiness. For the Chinese, he is also the personification of intelligence and wisdom. Rhino is also considered to be a home guardian that will not allow entering any persons with bad intentions. The use of this amulet in the office in the workplace contributes to a good atmosphere at work, as its impenetrable armor Rhino will protect you from harmful energy accumulating in the room. Obsidian is a stone of protection and spiritual growth: eliminates energy blocks and relieves tension, stimulates development at all levels, calls for knowledge of the unknown and opens new horizons, brings clarity of mind, eliminates doubts and limiting beliefs, develops qualities of compassion and strength.
Black obsidian Rhino is a magnificent protective amulet, it forms a shield against negative energies, blocks psychic attacks, eliminates negative effects a great gift to a company leader or promoted colleague.

Носорог – охранный талисман, придающий уверенность в своих силах, имеет тесную связь с землей, символизируя уверенность, постоянство и устойчивость. в Фэн-шуй носорог является сильным символом, защищающим от краж, потерь, грабежа и несчастных случаев. В Китае с носорогом связывают символ удачи и счастья. Для китайцев он также является олицетворением ума и учёности. Носорог не допустит проникновения в дом людей с плохими намерениями. Использование этого амулета в офисе на рабочем месте способствует хорошей атмосфере на работе, так-как своей непробиваемой бронёй носорог будет охранять вас от вредной энергии, накапливающейся в помещении. Обсидиан-камень защиты и развития: - устраняет энергетические блоки и снимает напряжение, стимулирует развитие на всех уровнях, призывает к познанию неизведанного и открывает новые горизонты, приносит ясность ума, устраняет сомнения и ограничивающие верования, развивает качества сострадания и силы.
Значение носорога из черного обсидиана -  защитный оберег, он формирует вокруг себя энергетический щит, экранируя отрицательную энергию, блокирует психические атаки и устраняет отрицательные воздействия извне.

Related Products