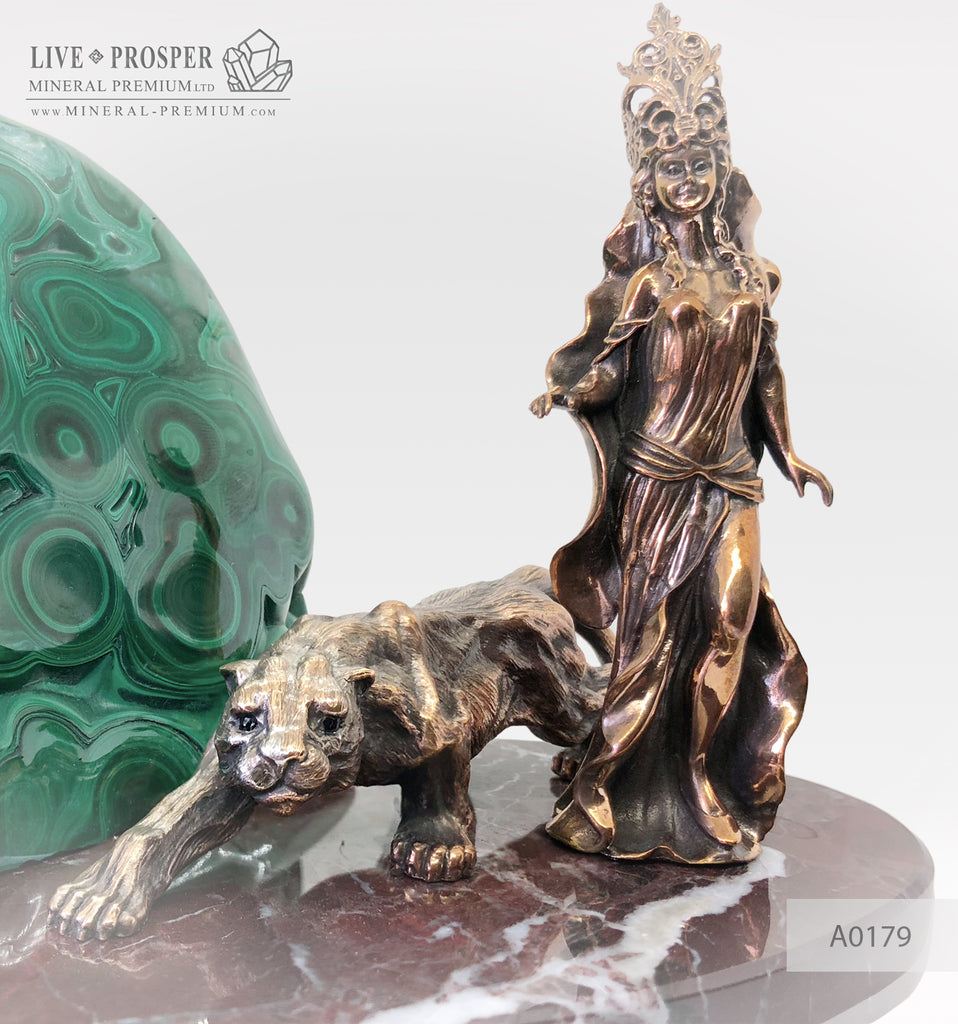 Bronze figures of the Goddess Diana and Cougar with malachite on a marble plate
$1,950.00
ID. PRODUCT: A0179

NAME OF PRODUCT | НАЗВАНИЕ ИЗДЕЛИЯ

Bronze figures of the Goddess Diana and Cougar with malachite on a marble plate
Бронзовые Богиня Диана и пума с малахитом на пластине из мрамора

MATERIALS | МАТЕРИАЛЫ

malachite bronze marble
малахит бронза мрамор

DIMENSION | ГАБАРИТЫ

h = 11,0cm 19,0 х 9,0сm 1,430g
h=11,0см 19,0х9,0см 1,430г

VIDEO | ВИДЕО
SYMBOLIC VALUE | СИМВОЛИЧЕСКОЕ ЗНАЧЕНИЕ
The Goddess Diana figure is a Roman goddess of flora and fauna, hunting, femininity, and fertility. The Cougar/Puma figure is a symbol of self-sufficiency, active lifestyle, ability to adapt, strength and power. Personifies beauty and power, grace and lethality, grace and ferocity. Malachite - the stone of doctors and healers - is an "intelligent" mineral, possessing extraordinary energy and power, to the strongest people only. In May, the mineral gains maximum of its strength, releasing it throughout the year into the surrounding area. Bronze figure of boar increases protective values of malachite, protects from evil eye and envious persons, guarding household members and subordinates against any outside encroachments. This mineral composition for women leaders, confidently going through life and know exactly what she wants and how to achieve it!

Богиня Диана - богиня растительного и животного мира, охоты, женственности и плодородия.
Пума / Кугуар – символ самодостаточности, активного образа жизни, умения приспосабливаться, силы и мощи. Олицетворяет красоту и силу, грацию и смертоносность, изящество и свирепость. Малахит - камень врачей и учёных – «умный» минерал, обладающий незаурядной энергетикой и силой подвластной только самым сильным людям. В мае минерал набирает максимальную силу, выпуская её в течении года в окружающее его пространство. Бронзовый кабан усиливает защитные свойства малахита, оберегая дом от сглаза и завистников, охраняя и оберегая домочадцев и подчинённых от посягательств извне.
Данная минеральная композиция для женщин лидеров, уверенно идущих по жизни и точно знающих, чего она хочет и как этого добиться!

PAYMENTS | СПОСОБЫ ОПЛАТЫ | אמצעי התשלום 

Payment method offerings around the world |  Credit cards: VISA, Mastercard and other | Digital wallets: PayPal, Western Union, Bitcoins and other | Direct debit / bank transfer: Deutsche bank, Israel bank, Sberbank and other

Способы оплаты   | Кредитные карты: VISA, Mastercard и другие | Цифровые кошельки: PayPal, Western Union, Биткойны и другие | Банковские переводы: Deutsche bank, Израильские банки, Сбербанк и другие

אמצעי התשלום   |  ארנקים דיגיטלים :פייפאל, ווסטרן יוניון, בוניון, בוניון, ביטים | כרטיסי אשראי: ויזה, מאסטרקארד ואחרים | הוראת קבע / העברה בנקאית: דויטשה בנק, בנק ישל, סברבנק ואחרים 

SHIPPING | ДОСТАВКА | משלוח 

Worldwide Delivery: DHL, UPS, ISRAEL POST, EMS, СDEK,
Доставка по миру: DHL, UPS, ISRAEL POST, EMS, СДЭК,

משלוח מקומי ובינלאומי: DHL, UPS ,ישראל פוסט,СDEK, EMS
Related Products