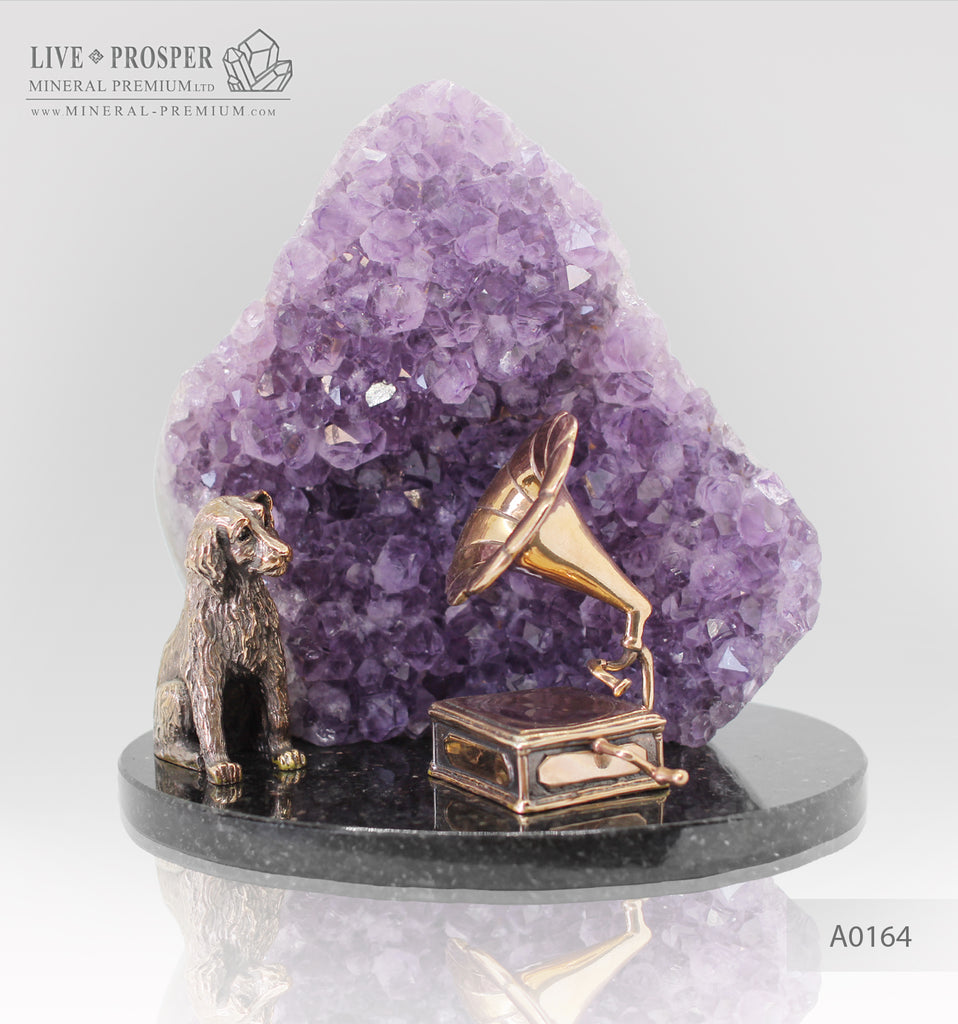 Bronze figures of the dog and Gramophone with agate geode amethyst on a dolerite plate
$1,678.00
ID. PRODUCT: A0164

NAME OF PRODUCT | НАЗВАНИЕ ИЗДЕЛИЯ

Bronze figures of the dog and Gramophone with agate geode amethyst on a dolerite plate
Бронзовые собака и Патефон с жеодой агата аметистовой друзой на пластине из долерита

MATERIALS | МАТЕРИАЛЫ

geode agate amethyst druse bronze dolerite
жеода агата аметиста бронза долерит

DIMENSION | ГАБАРИТЫ

h= 15,0cm 15,0х12,0сm 2,030g
h=15,0см 15,0х12,0см 2,030г

VIDEO | ВИДЕО


SYMBOLIC VALUE | СИМВОЛИЧЕСКОЕ ЗНАЧЕНИЕ

Amethyst stabilizes and provides new impulses within family relationship. Bringing harmony and balance to the home surroundings. Dog figure is a symbol of protector always stays on its guard, protecting from enemies, brings good and joy. The most suitable place in an apartment or office to accommodate a symbol is the entrance hall. In addition, the symbol of the dog embodies such good qualities as - faithfulness, vigilance, affection, sincerity, and obedience of the brave and vigilantly guarding the good.
The Gramophone: - symbolizes tribute to traditions and fidelity to the cultural heritage of the family.

Аметист - стабилизирует и даёт новый импульс отношениям внутри семьи и пространству в доме, привнося в него гармонию и баланс. Собака- символизирует защиту жилища. Призван остерегать очаг от врагов, приносить в дом добро и радость. Наиболее подходящим местом в квартире или офисе для расположения символа, является прихожая. Также символ собаки олицетворяет такие добрые качества как: -верность, бдительность, привязанность, искренность и послушание мужественного и бдительно стоя на страже добра. Патефон – символизирует дань традициям и верность культурному наследию рода.
PAYMENTS | СПОСОБЫ ОПЛАТЫ | אמצעי התשלום 

Payment method offerings around the world |  Credit cards: VISA, Mastercard and other | Digital wallets: PayPal, Western Union, Bitcoins and other | Direct debit / bank transfer: Deutsche bank, Israel bank, Sberbank and other

Способы оплаты   | Кредитные карты: VISA, Mastercard и другие | Цифровые кошельки: PayPal, Western Union, Биткойны и другие | Банковские переводы: Deutsche bank, Израильские банки, Сбербанк и другие

אמצעי התשלום   |  ארנקים דיגיטלים :פייפאל, ווסטרן יוניון, בוניון, בוניון, ביטים | כרטיסי אשראי: ויזה, מאסטרקארד ואחרים | הוראת קבע / העברה בנקאית: דויטשה בנק, בנק ישל, סברבנק ואחרים 

SHIPPING | ДОСТАВКА | משלוח 

Worldwide Delivery: DHL, UPS, ISRAEL POST, EMS, СDEK,
Доставка по миру: DHL, UPS, ISRAEL POST, EMS, СДЭК,

משלוח מקומי ובינלאומי: DHL, UPS ,ישראל פוסט,СDEK, EMS
Related Products