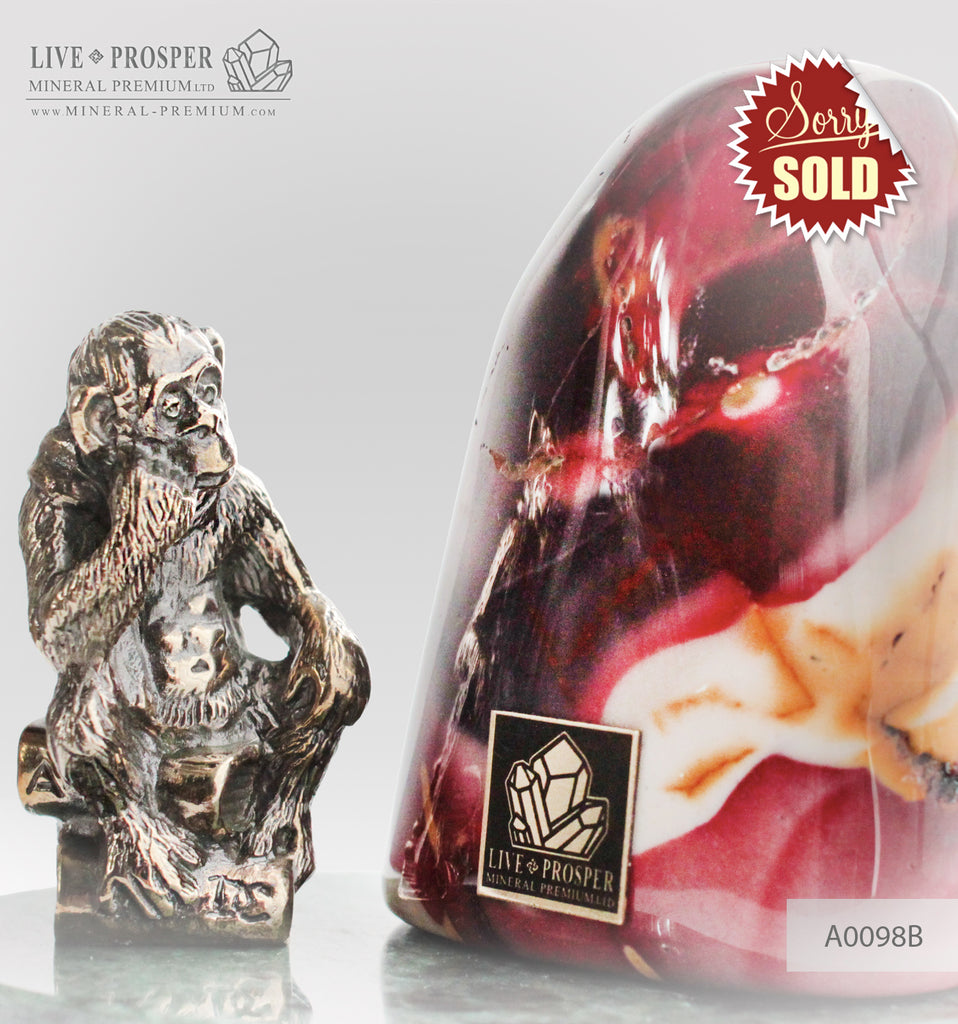 Bronze figure of Monkey Philosophy with Mookaite jasper on Marvel plate A0098B
$600.00
*SOLD OUT at 22.05.2018 you can send a request for a similar product *ПРОДАНО 22.05.2018 доступно аналогичное изделие
ID. PRODUCT: A0098B

NAME OF PRODUCT | НАЗВАНИЕ ИЗДЕЛИЯ

Bronze figure of monkey philosophy with mookaite jasper on marvel plate
Бронзовая обезьяна философ с яшмой мукаита на пластине из мрамора

MATERIALS | МАТЕРИАЛЫ

mookaite jasper bronze marvel
яшма мукаита бронза мрамор

DIMENSION | ГАБАРИТЫ

h = 8,0cm 9,5х6,5сm 0,501g
h=8,0см 9,5х6,5см 0,501г
VIDEO | ВИДЕО
SYMBOLIC VALUE | СИМВОЛИЧЕСКОЕ ЗНАЧЕНИЕ 
Jasper, Mookaite is a stone of high spiritual vibration. The mineral can dissipate the negative information, assist to restore and to activate vitality. The energy of the Jasper stone supports during times of stress and infuses, provides a sense of peace and spiritual strength, assist to find an urgent solution to any problems, lift the level of self-belief, facilitates the rapid decision-making, developing organizational abilities, stimulates the imagination and helps to move from words to action. Monkey – is a symbol of originality of thinking, cunning, ingenuity and ingenuity, as well as enterprise, dedication, willingness to go to all sorts of tricks in order to achieve the most desired.

The figure of a Monkey sitting on a book symbolizes the state of an enlightened person who is looking or has found the wisdom and universe tranquility.
Яшма Мукаит - камень высоких вибраций, способный рассеивать отрицательную информацию, восстанавливать и активировать жизненный тонус. Энергия яшмы поддерживает в период стресса и наполняет ощущением спокойствия и целостности, наделяет решительностью, придаёт смелость для безотлагательного решения проблем, развивает честность по отношению к самому себе, способствует быстрому принятию решений, развивает организаторские способности, стимулирует воображение и помогает перейти от слов к делу. Обезьяна – символ оригинальности мышления, хитрости, смекалки и сообразительности, а также предприимчивости, целеустремленности, готовности идти на всевозможные ухищрения для того, чтобы достичь желаемого.

Фигурка Обезьяны, сидящая на книге - символизирует состояние просвещённого человека, ищущего или нашедшего истину мироздания.
SHIPPING | ДОСТАВКА | משלוח 

Worldwide Delivery: DHL, UPS, ISRAEL POST, EMS, СDEK,
Доставка по миру: DHL, UPS, ISRAEL POST, EMS, СДЭК,

משלוח מקומי ובינלאומי: DHL, UPS ,ישראל פוסט,СDEK, EMS
Related Products