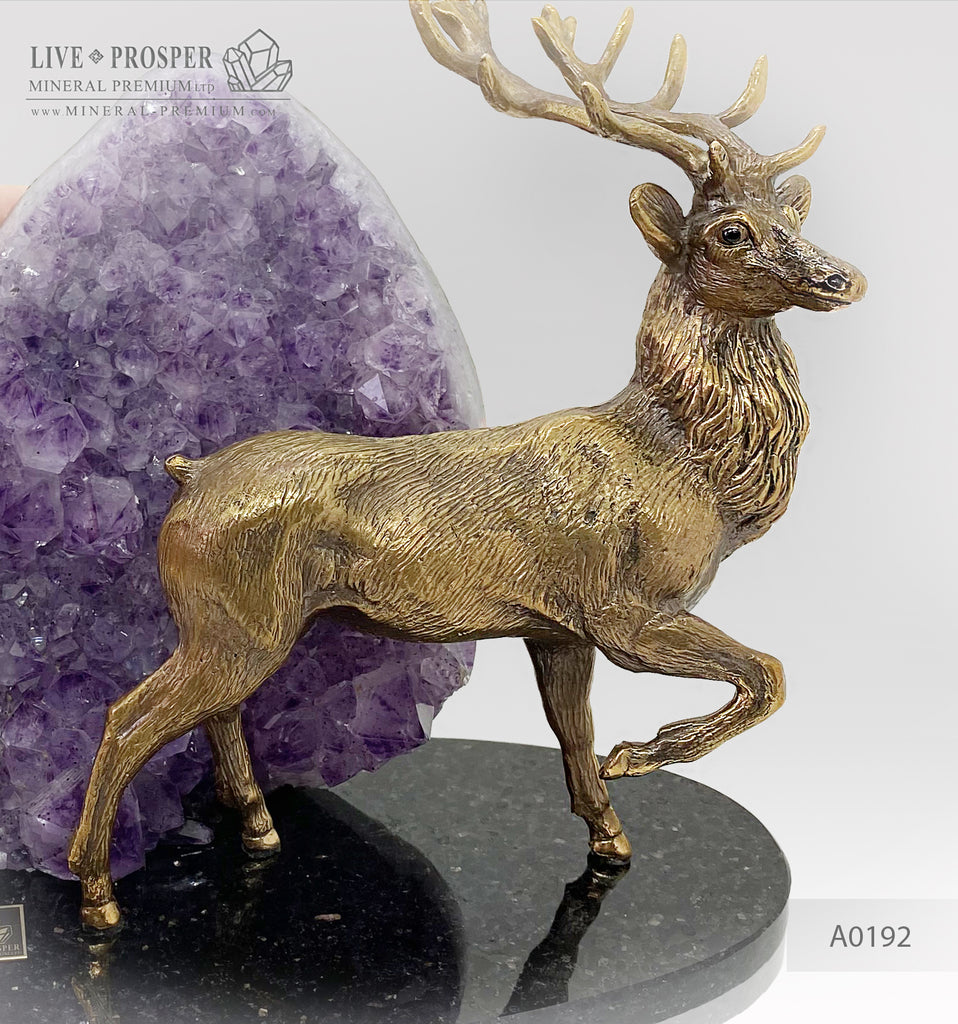 Bronze deer figure with agate geode amethyst druze on a dolerite plate
$1,895.00
ID. PRODUCT: A0192 

NAME OF PRODUCT | НАЗВАНИЕ ИЗДЕЛИЯ

Bronze deer figure with agate geode amethyst druze on a dolerite plate
Бронзовый олень с агата жеода аметистовой друзой на пластине из долерита

MATERIALS | МАТЕРИАЛЫ

agate geode amethyst bronze dolerite
агата жеода аметиста бронза долерит

DIMENSION | ГАБАРИТЫ

h = 17,5cm 19,2х10,0сm 1,816g
h=17,5см 19,2х10,0см 1,816г

VIDEO | ВИДЕО

Coming soon…

SYMBOLIC VALUE | СИМВОЛИЧЕСКОЕ ЗНАЧЕНИЕ 

The bronze deer is a favorable symbol associated with the Sun, sunrise, light, purity, renewal, rebirth, creation and spirituality. in Feng Shui, the Deer symbolizes happiness and longevity, the white male deer symbolizes the Show-Sin, the god of longevity. In addition, the word "deer" in China is consonant with the word "wealth". Amethyst stabilizes and provides new impulses within family relationships. Bringing harmony and balance to the home surroundings.

Бронзовый олень — благоприятный символ, ассоциирующийся с Солнцем, восходом, светом, чистотой, обновлением, возрождением, созиданием и духовностью. Из-за сходства оленьих рогов с ветвями образ оленя связан с Древом Жизни. в Фен-шуй Олень символизирует счастье и долголетие, белый олень-самец символизирует Шоу-Синя, бога долголетия. Кроме того, олень ассоциируется с богатством и удачей, слово «олень» в Китае созвучно слову «изобилие». Аметист - стабилизирует и даёт новый импульс отношениям внутри семьи и пространству в доме, привнося в него гармонию и баланс.

PAYMENTS | СПОСОБЫ ОПЛАТЫ | אמצעי התשלום 

Payment method offerings around the world |  Credit cards: VISA, Mastercard and other | Digital wallets: PayPal, Western Union, Bitcoins and other | Direct debit / bank transfer: Deutsche bank, Israel bank, Sberbank and other

Способы оплаты   | Кредитные карты: VISA, Mastercard и другие | Цифровые кошельки: PayPal, Western Union, Биткойны и другие | Банковские переводы: Deutsche bank, Израильские банки, Сбербанк и другие

אמצעי התשלום   |  ארנקים דיגיטלים :פייפאל, ווסטרן יוניון, בוניון, בוניון, ביטים | כרטיסי אשראי: ויזה, מאסטרקארד ואחרים | הוראת קבע / העברה בנקאית: דויטשה בנק, בנק ישל, סברבנק ואחרים 

SHIPPING | ДОСТАВКА | משלוח 

Worldwide Delivery: DHL, UPS, ISRAEL POST, EMS, СDEK,
Доставка по миру: DHL, UPS, ISRAEL POST, EMS, СДЭК,

משלוח מקומי ובינלאומי: DHL, UPS ,ישראל פוסט,СDEK, EMS
Related Products