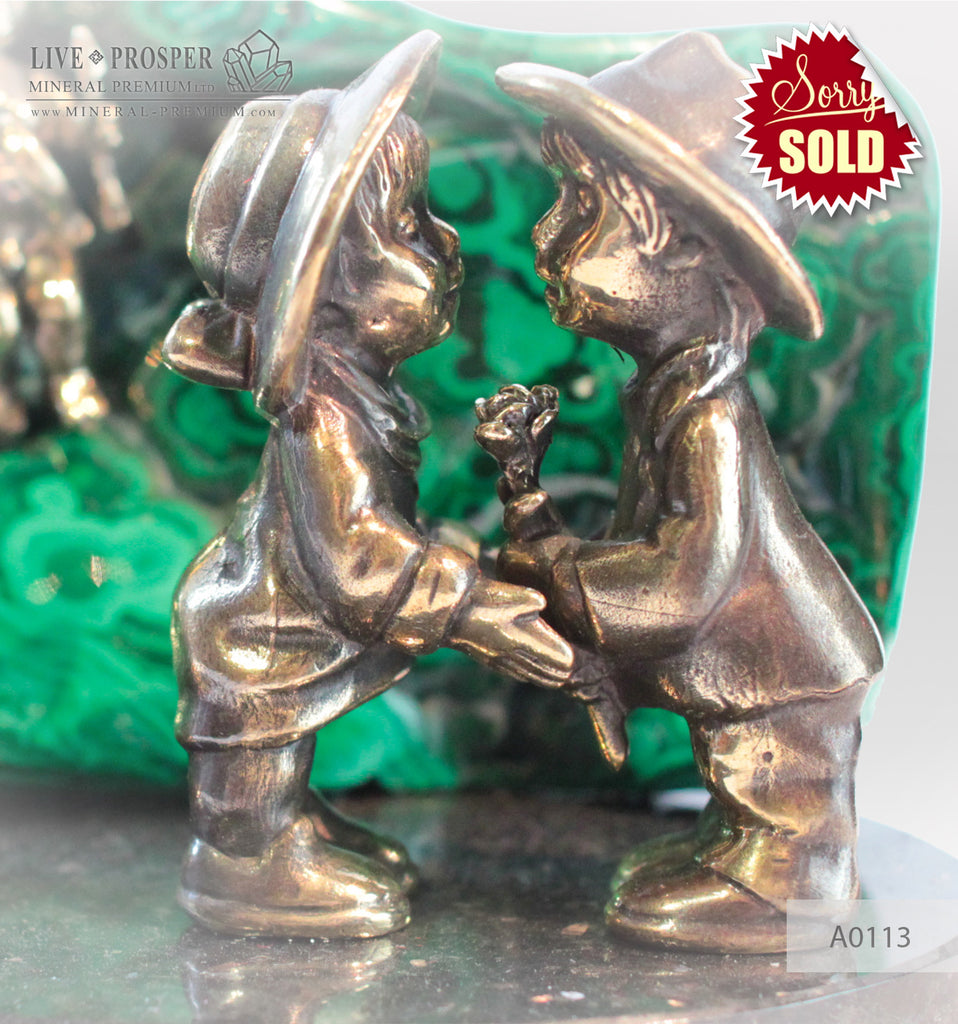 Bronze Cupid and Sweethearts with Malachite and Rock- crystal Sphere on a Dolerite plate
$927.00
*SOLD OUT at 01.07.2016 you can send a request for the similar product
*ПРОДАНО 01.07.2016   доступно аналогичное изделие
ID. PRODUCT: A0113

NAME OF PRODUCT | НАЗВАНИЕ ИЗДЕЛИЯ

Bronze cupid and sweethearts with malachite and rock- crystal sphere on a dolerite plate
Бронзовые амур и влюбленные с малахитом и шаром из горного хрусталя на пластине из долерита

MATERIALS | МАТЕРИАЛЫ

malachite rock- crystal bronze
малахит горный хрусталь бронза

DIMENSION | ГАБАРИТЫ

h = 12,0cm 12,5 х 8,5сm 1,009g
h=12,0см 12,5х8,5см 1,009г
Mineral and sculpture descriptions also available on your home language please send request
Свойства минерала и значение скульптуры A0113 | Russian
VIDEO | ВИДЕО
 SYMBOLIC VALUE | СИМВОЛИЧЕСКОЕ ЗНАЧЕНИЕ 
Sweethearts - symbolizes a strong relationship as well as a unique protection talisman of relations from outside interference. The rose - symbolizes many opposing meanings: perfection, and passion, time and eternity, life and death, fertility and virginity. Malachite - the stone of doctors and healers - is an "intelligent" mineral, possessing extraordinary energy and power, to the strongest people only. In May, the mineral gains maximum of its strength, releasing it throughout the year into the surrounding area.
All together: the bronze figures and the Malachite mineral creates an invisible shield surrounding loving couple with protection an care that gives true love the opportunity to mature, and the "rose of relationships" to blossom and grow in all its glory!

Влюблённая пара - символизирует крепкие отношения и является уникальным оберегом и защитой отношений от вмешательств извне. Роза -символизирует множество противоположных значений: небесное совершенство, и земную страсть, время и вечность, жизнь и смерть, плодородие и девственность. Малахит - камень врачей и учёных – «умный» минерал, обладающий незаурядной энергетикой и силой подвластной только самым сильным людям. В мае минерал набирает максимальную силу, выпуская её в течении года в окружающее его пространство.
Все вместе: бронзовые фигурки и малахит создают невидимый щит, окружающий любящую пару необходимой защитой, которая дает истинной любви возможность созреть и возмужать, а «розе отношений» расцвести во всей красе!
SHIPPING | ДОСТАВКА | משלוח 

Worldwide Delivery: DHL, UPS, ISRAEL POST, EMS, СDEK,
Доставка по миру: DHL, UPS, ISRAEL POST, EMS, СДЭК,

משלוח מקומי ובינלאומי: DHL, UPS ,ישראל פוסט,СDEK, EMS
Related Products