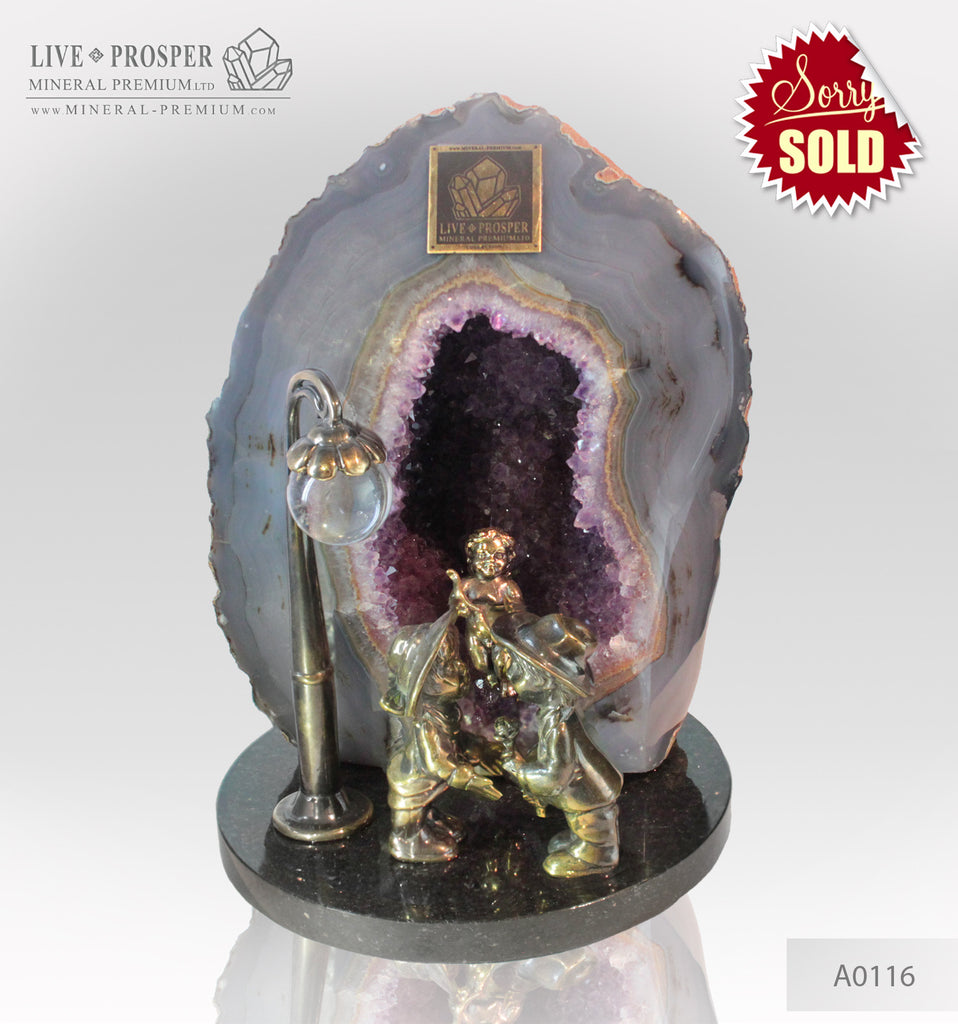 Bronze Cupid and Sweethearts with Agate Geode Amethyst and Rock- crystal sphere on a Dolerite plate
$1,160.00
*SOLD OUT at 06.04.2017 you can send a request for a similar product
*ПРОДАНО 06.04.2017  доступно аналогичное изделие
ID. PRODUCT: A0116

NAME OF PRODUCT | НАЗВАНИЕ ИЗДЕЛИЯ

Bronze cupid and sweethearts with Agate Geode Amethyst and rock- crystal sphere on a dolerite plate
Бронзовые амур и влюбленные с жеодой агата аметистовой друзой и шаром из горного хрусталя на пластине из долерита

MATERIALS | МАТЕРИАЛЫ

agate geode amethyst druse rock- crystal bronze
жеода агат аметист горный хрусталь бронза

DIMENSION | ГАБАРИТЫ

h = 18,0cm 12,0 х 13,5сm 2,729g
h=18,0см 12,0х13,5см 2,729г
Mineral and sculpture descriptions also available on your home language please send request
Свойства минерала и значение скульптуры A0116 | Russian
VIDEO | ВИДЕО
SYMBOLIC VALUE | СИМВОЛИЧЕСКОЕ ЗНАЧЕНИЕ 

Bronze cupid and Sweethearts - symbolizes a strong relationship as well as a unique protection talisman of relations from outside interference. Amethyst stabilizes and provides new impulses within family relationships. Bringing harmony and balance to the home surroundings. 

All together: the bronze figures and the Amethyst mineral creates an invisible shield surrounding loving couple with protection and care that gives true love the opportunity to mature.

Влюблённая пара c Купидоном - символизирует крепкие отношения и является уникальным оберегом и защитой отношений от вмешательств извне. Аметист - стабилизирует и даёт новый импульс отношениям внутри семьи и пространству в доме, привнося в него гармонию и баланс. 

Все вместе: бронзовые фигурки и аметист создают невидимый щит, окружающий любящую пару необходимой защитой, которая дает истинной любви возможность созреть и возмужать. 
SHIPPING | ДОСТАВКА | משלוח 

Worldwide Delivery: DHL, UPS, ISRAEL POST, EMS, СDEK,
Доставка по миру: DHL, UPS, ISRAEL POST, EMS, СДЭК,

משלוח מקומי ובינלאומי: DHL, UPS ,ישראל פוסט,СDEK, EMS
Related Products