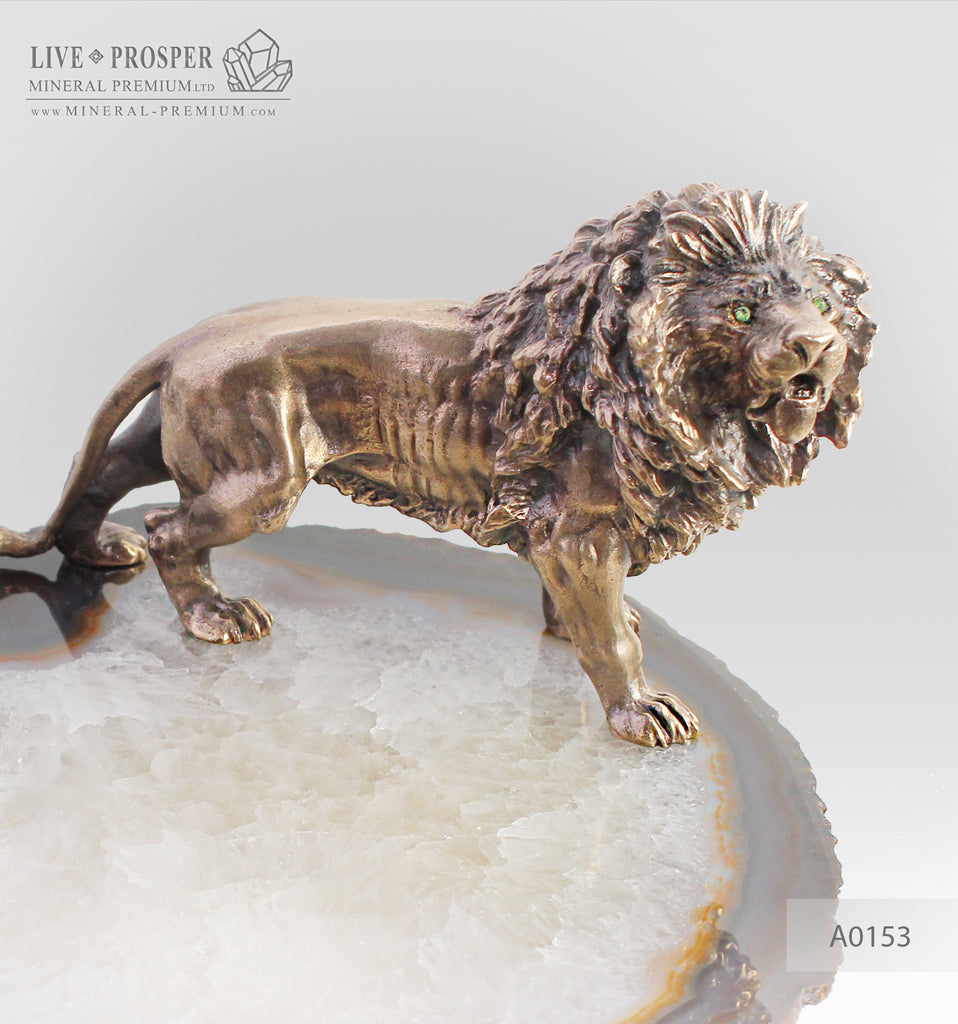 Bronze figure of lion the King of pride with demantoids inserts on agate plate
$3,150.00
ID. PRODUCT: A0153

NAME OF PRODUCT | НАЗВАНИЕ ИЗДЕЛИЯ

Bronze figure of lion the King of pride with demantoids inserts on agate plate
Бронзовый лев Король прайда со вставками из демантоидов на пластине из агата

MATERIALS | МАТЕРИАЛЫ

agate bronze demantoids
агат бронза демантоиды

DIMENSION | ГАБАРИТЫ
h=13,5cm 24,0х23,0сm 2,781g
h=13,5см 24,0х23,0см 2,781г
VIDEO | ВИДЕО
SYMBOLIC VALUE | СИМВОЛИЧЕСКОЕ ЗНАЧЕНИЕ

Lion is a symbol of greatness and strength, personifies courage, justice and law, military power and wisdom. As a King of animal kingdom lion is a widespread symbol of royal power, military victory, vigilance, stamina and willpower. Agate is a stone of harmony. Improves mindfulness, concentration, receptivity, awareness, and analytical abilities help to find economical and practical solutions, promotes the development of awareness, creates a sense of security and confidence relieves internal tension.

Altogether Agate and Lion serves as a protective amulet, creating an invisible energy shield around its owner, and an impenetrable barrier to the evil eye and negative influence from the outside.

Лев – символ величия и силы, олицетворяет храбрость, стойкость, справедливость, закон, военную мощь. Будучи Царем Зверей, лев — широко распространенный символ королевского могущества, военной победы, бдительности, стойкости и силы воли. Агат - солнечный камень гармонии — улучшает внимательность, концентрацию, восприимчивость, осознание и аналитические способности, способствует нахождению экономичных и практичных решений, способствует развитию осознанности, создаёт чувство безопасности и уверенности, снимает внутреннее напряжение.

Композиция служит защитным оберегом, возводя вокруг своего владельца невидимый энергетический щит, и не проходимый барьер для сглаза и негативного влияния извне.
PAYMENTS | СПОСОБЫ ОПЛАТЫ | אמצעי התשלום 

Payment method offerings around the world |  Credit cards: VISA, Mastercard and other | Digital wallets: PayPal, Western Union, Bitcoins and other | Direct debit / bank transfer: Deutsche bank, Israel bank, Sberbank and other

Способы оплаты   | Кредитные карты: VISA, Mastercard и другие | Цифровые кошельки: PayPal, Western Union, Биткойны и другие | Банковские переводы: Deutsche bank, Израильские банки, Сбербанк и другие

אמצעי התשלום   |  ארנקים דיגיטלים :פייפאל, ווסטרן יוניון, בוניון, בוניון, ביטים | כרטיסי אשראי: ויזה, מאסטרקארד ואחרים | הוראת קבע / העברה בנקאית: דויטשה בנק, בנק ישל, סברבנק ואחרים 

SHIPPING | ДОСТАВКА | משלוח 

Worldwide Delivery: DHL, UPS, ISRAEL POST, EMS, СDEK,
Доставка по миру: DHL, UPS, ISRAEL POST, EMS, СДЭК,

משלוח מקומי ובינלאומי: DHL, UPS ,ישראל פוסט,СDEK, EMS
Related Products